Together as one for Artsakh
On September 27, Armenians woke up to war – perhaps to the first war for the younger generations and the most large-scale one for older generations who knew the bitter taste of it well.
Armenia and Artsakh are facing a horrific battle of survival for the third week in a row. Armenians all over the world – Armenia, Artsakh, and the world-spread Diaspora – have become one and use their voice to raise awareness about the severity of the situation, achieve justice and peace for the Homeland.
"The Armenian people are one people. Our country is one country. Artsakh is a part of Armenia" – Monte Melkonian's words in one of his interviews appeared again on our news feeds, becoming the drop of unity and hope for victory and peace.
At COAF, our first day of war started with a team meeting led by COAF Managing Director Korioun Khatchadourian, for who it is the second war since moving to Armenia from France in 2016. "We should strive to do our job even better – it is a way we can all fight in our own places," he encouraged the COAF team.
During the Artsakh Liberation War (1992), Korioun was living in the Diaspora, during the four-day April War (2016) – in Artsakh, and now – in Armenia. "The feelings about the war are the same no matter where you are, but the war comes closer to you as soon as you have someone familiar who dies," he emphasizes.
At this time of crisis, we are committed to doing everything we can as an organization to aid our country's efforts in Artsakh and Armenia. With a burning sense of urgency, here's how we've been addressing this humanitarian crisis so far: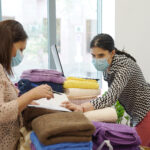 We are providing exceptional humanitarian assistance to internally displaced people in Stepanakert every day (so far 40 boxes of food, water supplies, clothing, medicine, and first-aid toolkits, power banks, blankets & pillows).
We are providing shelter and food to over 25 displaced families from Artsakh. Many COAF-supported villages have welcomed families from Artsakh, who turns out, are now our beneficiaries who our team is humbled to serve up to the hilt.
We are addressing critical war-time situation needs (both drug supplies and equipment) with the Ministry of Health in Armenia and Artsakh.
We are securing shelters in areas that are safe for our rural population. We have already equipped three specific locations in the Tavush region with gasoline, sleeping bags, blankets, fire extinguishers, hygiene supplies, medicine, water gallons, food cans, and candles.
We are adapting our multifaceted services (psychological support, social work, and healthcare assistance) to the current situation to provide a helping hand to our direct beneficiaries in all COAF-supported communities, as well as all those in urgent need.
Our mission of advancing the rural communities of Armenia comes to prove that Armenia needs people who will stay and contribute its development. A country is getting stronger as we are fostering the economy, investing in infrastructures, creating values, paying taxes, and strengthening the state institutions, one of which is the army.
As we are all ears to the news from Artsakh, let's go the extra mile to support our country not only today but also every day after the war.
As we know the true cost of the war, let's strive to build the peace that will last forever for us and the generations to come.
As we woke up to a war, let's always be awake and alive for Armenia.