Building bridges to Anna's big dreams
She believes the most efficient education is constant self-learning.
Meet Anna Beglaryan, 17, a COAF SMART Marketing student who lives in Dsegh, one of the most rustic villages of the Lori Province. She is a true lover of her birthplace, well-known for being the hometown of Armenian writer Hovhannes Tumanyan. The celebrated poet is no longer alive but his land is home for so many talented youngsters who proudly carry the village to new heights.
Being the fifth among her six siblings, Anna manages to study, work, and help her family with the housework. Time is the most valuable resource for her and she strives to spend every minute wisely.
She welcomes and guides many local and international tourists through her job as a tour guide at the Nature Visitor Center. "I learn a lot from the tourists. Once one of the Armenian-American tourists I met was astonished by the nature of Dsegh and told me we should realize it was a huge privilege to live in such a heavenly environment," remembers Anna, the young Dseghtsi who is appreciative of her community.
Give her spare time to relax and she will still go about spending the time on self-learning. Languages are her passion, especially German. No day goes by without her digging into the books, online courses, and YouTube videos that teach her favorite language. "I am not a fan of sleeping. I prefer to spend my time on something way useful."
"Life is meaningless without goals," believes Anna. Taking stock of her life and pondering about her next steps and goals has long been a habit for her. The COAF SMART Center became a new world to a better reality and future for Anna. "Becoming a SMART Citizen is not just a phrase we use, whatever we learn at SMART truly makes us a better version of yourself both as a person and a citizen."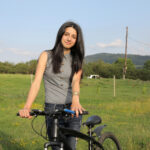 Anna believes that hard work pays off, and despite the obstacles she meets in life, her entrepreneurship aspirations build bridges to her dreams for the future. "The youth is super active and energetic in my village. The sad thing is, most of them spend their childhood and teenage life here but later move to and work either in Yerevan or abroad. I have many business ideas in my villages, and I believe I can stay here and bring them to life as a grown-up."