Pure Armenian with German punctuality
Feel like a native in a country you have never been to
Many might relate that having an Armenian first name and introducing yourself when abroad can be challenging, of course, if your name isn't Ann, Mary, or David. 
Araks Avetisyan. "Some think my name sounds miserable, some think it sounds rude, and some – that it's a male name," tells Araks in a vivacious voice. 
It's been a month that Araks has had an internship at COAF's Health services to examine the patients living in the villages of the Armavir region. She now possesses a medical glossary in Armenian as well.
"I was born in Schwerin city of Germany, near the Baltic Sea. Now I live in Magdeburg and have been studying General Medicine at Otto von Guericke University Magdeburg for the fifth year."
It was the medicine that brought Araks to her ancestral homeland Armenia. By interesting coincidence, her roots are from two COAF-beneficiary communities: Vanadzor city in the Lori region and Berdavan village in the Tavush region.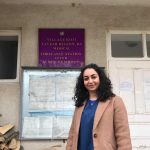 Why medicine?
"I have always liked the idea of having an ability to give people health with own knowledge and hands." Araks wants to become a gynecologist, as it is the branch of medicine that "shows the meaning of life – the birth of a person".
To have two homelands
In Armenia, when arranging a meeting time, people can decide to meet at 9-9:30 AM. And then, Araks does not know when to come, at 9 AM or 9:30? "In Germany, everything is more specific; they choose a specific time and come right on time," says Araks, in whom German punctuality and Armenian patriotism live side by side.
Grow up in the diaspora and be an Armenian
"It is difficult to grow up elsewhere when you are Armenian because you are always trying to find out who you are. In Armenia, people see me as a German, and there, I am an Armenian ․․․ It seems that you should be either one or the other, but I think one does not limit the other."
A motherland you haven't been to
When Araks was a child, her mother used to say they had to take a plane to go to Armenia. Araks thought that Armenia was in the sky and it was a "dream place" for her.
"I visited Armenia for the first time in 2010․ I couldn't have imagined I could feel so native to a country I had never been to. I knew everything about the cities, about Vanadzor, because my parents had told me a lot."
What's your favorite thing about Armenia?
"Walking in the streets and hearing strangers speak Armenian. I do not differ from people here both in my appearance and sense of belonging. Here I connect with my history. I walk through the streets thinking that my grandparents walked here."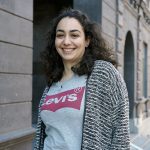 Why volunteer in Armenia? 
Araks got the opportunity to work at COAF through volunteering at Birthright Armenia. "I am happy that these two organizations exist as thanks to them, I was able to do something for the country that is mine and where I belong to. This internship helped me find myself. "
Dream
Araks once met COAF Founder Garo Armen and got inspired by him. "I want to work in Germany, gain experience, come to Armenia and help people in the villages. Villages are often neglected, but aren't people equal no matter where they live? When I found out about COAF, I was so happy․ It turned out that what I had always imagined existed. That is, not forgetting about villages."