Classical music and the "national sports" of Karakert
Do you remember the famous game of Rock, Paper and Scissors? Two 8-year-old kids had arrived to take part in COAF SMARTConnects with Arsen Julfalakyan, a Greco-Roman wrestler and Olympic silver medalist. They immediately started playing Rock, Paper and Scissors to find out who would be the first person to ask questions to the champion. The winner was extremely happy. Triumphantly smiling, he asked Julfalakyan how he became a champion…
The athlete told about his road to the championship, assuring children that they could achieve anything they wanted. "I took up wrestling classes when I was eleven. We lived in Gyumri, the conditions were very bad, but I became a champion, anyway. Just concentrate on positive things and you will be able to overcome all the obstacles."
Grigor from Vahagni wanted to know about the "idols" of Julfalakyan. "I didn't have any idols. However, great people have always been role models for me. Also, I was lucky that my father – Levon Julfalakyan – has always been by my side. I have learned a lot from him."
A kid asked about Julfalakyan's emotional responses to victory. "The feelings are unforgettable. It's about pleasure and, at the same time, responsibility. I remember a businessman who was so thrilled about my victory that he granted several day-offs to his employees after that," the champion said, smilingly.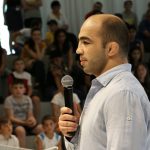 In the end, Julfalakyan organized a brief relay race for the kids. Sixteen-year-old Mesrop was very excited. "I want to become a professional wrestler. I learned a lot from Julfalakyan – overcoming difficulties and not giving up. I realized that I can achieve what I want."
Perch Khachatryan is the head of Karakert community center and a wrestling coach. He coaches young wrestlers from Karakert, Arteni and Aragatsavan.
"Greco-Roman wrestling used to be called Classic Wrestling," he says. "It's like classical music that is different from anything else."
Khachatryan's students have participated in lots of competitions. Many of them have won. "Greco-Roman wrestling is the main "national" sports of Karakert," Khachatryan smiles.- "And COAF has been supporting our wrestling clubs since 2007. And our students were looking forward to meeting Julfalakyan. It was inspiring for them to see a real champion.
And the champion promised to return and conduct sessions with the kids. "I was in SMART Center a year ago," he recalled.- "And now it has become a home to me."