Every house has a story from Artsakh
COAF-supported villages have new residents – people who are still in their homeland but dream of returning to their abandoned homes.
They left Artsakh (Nagorno Karabakh) more than a month ago, but Artsakh never left them in their thoughts and dreams. No minute goes by without them reflecting on the lost peaceful days in their homeland, the only place they feel safe.  Everyone's thoughts are with their sons, husbands, fathers, and grandchildren, in bombed streets, borderline, and lonely houses where month-old unfinished breakfasts are still lying on the table.
There has been too little time to figure things out. Who? When? How? ․․․ Why?
Now, when you pass from one house to another in the villages we serve, every single family has a story from Artsakh.
No need to watch movies. Here's one about pain and survival.
Grandma Raya from Talish
Raya Mirabyan is a resident of Talish village. On September 27, she woke up and, as usual, kicked the day off by feeding her chickens. Neither the sounds of the explosions nor the turned-off TV warned her of the unwanted news of the war. The neighbors weren't around though she had managed to notice.
Grandma Raya has difficulty hearing․ An explosion near her house during the 90s war has left its mark on the woman.
The fire truck driver crossing the street noticed her and asked, "Ma'am, what are you doing here?" It is a war."
"What war?" Not understanding what was happening around her, she left Talish, her eye on her house's ajar door.
Gayane's family from Stepanakert 
Gayane has two children – smart, modest Valeri, and lively, playful Tigran. The boys are a few years apart – their perception of the war is different too. "Isn't their big world enough for them that they want our small world?" six-year-old Tigran questions his mother.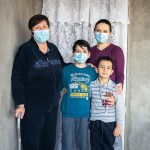 Gayane is a diplomat, the second secretary in the Ministry of Foreign Affairs of the Republic of Artsakh. She visited Stepanakert a few days ago for the first time since the war began to get the necessary clothes and things.
The new appearance of her beloved city was not that unexpected in her eyes․ The images on social media had shown her enough. Instead, she admired how clean and tidy the bombarded city, with so many ruins around, was․ "Building windows are broken, but there is no glass spilled on the floor, the area has been shelled, but there are no traces of destruction around. People have been cleaning everything."
It is how the people of Artsakh love and protect what belongs to them, even if destroyed.
Chef Marieta from Hadrut
Chef Marieta Harutyunyan was at her beloved workplace in Artsakh only five weeks ago․ She has been feeding soldiers for 28 years. They were getting ready for a military breakfast.
September 27 commenced the same way. The breakfast they were preparing for did not take place. From the scale of the explosions, Mrs. Marietta immediately realized what was happening․ "I have always known that if one day there is a war, the first stroke will be on us."
"What should happen?" the woman keeps asking every visitor to the house, waiting for an answer with her eyes full of hope. She left everything in Artsakh, didn't even manage to take a shirt, but all that is nothing – her children there is her only concern.
Grandpa Yura and Grandma Romella from the town of Martakert 
"I have been present during the Sumgait massacre (1988)," tells Yura Aghamalyan, who lived in Baku, the capital of Azerbaijan, before the Liberation War of Artsakh in 1992. "We fled as it was no longer possible to stay there," he says with one eye on the TV – news is the sole path to Artsakh these days.
"My son is on the battlefield, my grandson is there too, my daughter is in military service as well," continues his wife Romella. They do not know whether their house is still standing now or not.
"We have endured everything, we have gotten used to everything. Let there be peace, let our soldiers be healthy," says the couple, who finds reasons to be grateful despite the bitterness of things.
***
And so on, from one house to another.
My son is there. My grandson is there. My husband is there. My daughter is there too.
The battle of survival goes on, and people sacrifice their most precious in that battle: life, children, and loved ones.
Peace is ahead. Everyone is waiting.