A COAF teacher and her personal growth journey
In March 2017, Christine left for Italy. She stayed in a small town called Casarsa where she worked at a daycare center for people with disabilities.
"I also worked in a farm and did some planting and gardening with people with disabilities," Christine recalls. "Babysitting children of various ages was also a part of my job. Also, I planned and conducted English language activities in a summer camp."
Christine was back to Armenia in December 2017 and was immediately offered to join COAF as an Access teacher in Aragatsavan. "English Access is not just a workplace for me," Christine smiles, "It's my inspiration and motivating force. Due to the U.S. Embassy and COAF I can constantly improve my skills, become a better specialist. Those two leading organizations in the English language teaching field have greatly contributed to my personal development, too. The most important thing is, I have become a more confident and open-minded person."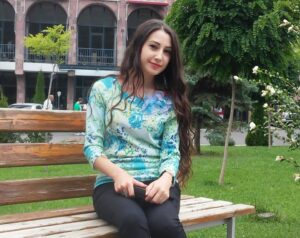 In July 2018 Christine participated in another training course – "Empowering Those on the Field." The workshop took place in Kobuleti, Georgia. As Christine tells, "The training course aimed to provide youth workers with a comprehensive understanding of the dynamics of contemporary conflicts and the impact that young people, mainly effected by these conflicts, can have in influencing change processes in Europe. The training was very inspirational, energizing, and brought lots of ideas, with both substantial and in-depth knowledge learning from experience and being fully practice-oriented."
In May, 2019, Christine joined the AISEC Global Volunteer Program –  a cross-cultural volunteer experience for young people who seek to develop themselves and the world. She worked with children at Camp Tannadoonnah in Michigan, the USA, facilitating educational activities and cultural awareness lessons in order to support individual expression and leadership development.
Christine says she regularly talks to her students about her training and volunteering experiences. "I would like to become a role model for them. I encourage them to apply for various workshops in order to contribute to their knowledge and provide them with tips on how to do it effectively."
The young teacher has another passion – she is an avid reader. "My favorite work is called Tales of a Female Nomad: Living at Large in the World by Rita Golden Gelman," Christine says. "I have a favorite quote from the book … I'm not running away. I'm running toward… toward adventure, toward discovery, toward diversity… And I really think that you should take risks and go for adventures, new things and new knowledge in order to achieve your goals…"