Collecting a mountain of waste in Debet village
A few hours ago, after 106 years, US President Joe Biden officially recognized the Armenian Genocide. And what have we been busy with when the news came?  
This year, we decided to honor the memory of the innocent victims of Meds Yeghern with work that would better our rural communities.
Our team initiated a spring community cleanup in our near and dear Debet village of the Lori region. Our Yerevanian and SMART Center team joined efforts together with Debet residents to get rid of the trash polluting the lavish green surroundings of the village.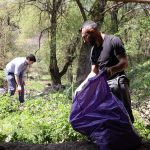 As you can tell, the most vigorous go-getters were the young residents of Debet.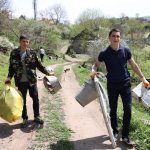 We started the big day by gathering at the community center, divided into groups, and headed in different directions. In five hours of incessant work, we collected a huge mountain of waste consisting of industrial trash, plastic bottles, plastic bags, and household items, etc. 
Believe us, there is nothing like getting rid of the garbage lying in the mesmerizing nature of a gorgeous village like Debet. How pleasant it'll be if there is no waste at all?
As you know, we launched our SMART Debet initiative at the end of last year. Several projects we have implemented so far include infrastructure improvements and the construction of new ones, building houses for displaced families from Artsakh, and training such as  English classes, social media, and management consulting for the staff of Debet Municipality.
Garbage collection in Debet, as in many other villages of the country, is still a pending issue and one of the priority components of our program. Our teammates have been cleaning the area, removing and recycling industrial waste from the village for months. The difference is significant, but there is still a lot of work to do. The change starts with each villager. 
Debed River, well-known from Hovhannes Tumanyan's works, is often dirty on spots and does not correspond to the author's beautiful descriptions of it.
We want the kickoff of the cleaning day to become Debet's new character. To have a clean and appealing community, we should start by not polluting the environment. Especially now, when a proper waste management system is on its way, the cleanliness of the community is the responsibility of every dignified Debettsi.