Gateway to the modern world: COAF SMART Rooms
Vardenik village is in Gegharkunik region of Armenia. It has the biggest population among villages, with over 10.000 inhabitants. Vardenik is a great sightseeing destination, with cyclopean fort ruins, monasteries and cross-stones.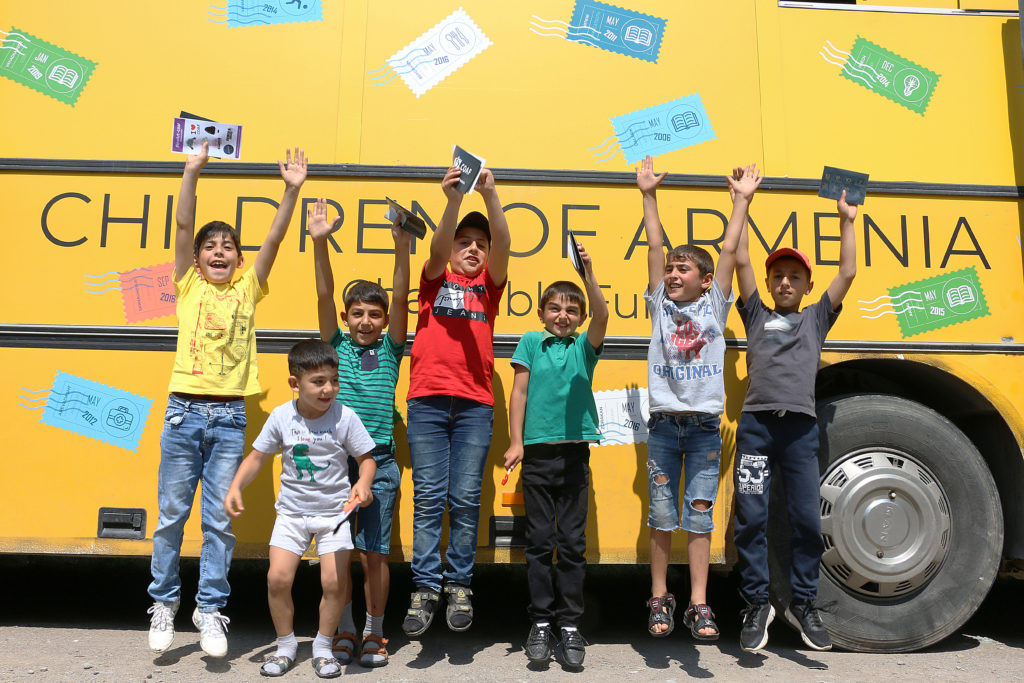 Ten-year-old Hayk is from Vardenik. He is a curious and funny boy, and he wants to become a painter. Hayk says that he is never bored since there are lots of extracurricular activities for children in the village.
This year Hayk found another attraction in the village – he attended the Aveluk (sorrel) festival in the central park of the community. Here, he saw the longest aveluk "braid', listened to nice folk music and tried delicious food. He even saw prime minister's spouse Anna Hakobyan at the festival. And when he was leaving the park, he saw a beautiful yellow bus standing by. Hayk immediately realized that it was not an ordinary touristic bus.
"Aren't there any seats on the bus?" he said, surprised?
"There are no seats but there is a nice photo exhibition presenting the COAF history," he heard.
Hayk got on the bus and looked around. He hadn't seen anything like that – there was a mobile photo exhibition on the bus. Hayk asked lots of questions to COAF employees, learned everything and then… he started inviting people into the bus, "Come over, I will tell you everything. Can you see Lernagog school? It was half-ruined before, and now it is renovated. And this is Debet… This is the road leading to the SMART Center…"
Hayk was very enthusiastic to conduct tours for dozens of guests. Gegharkunik head of regional administration Gnel Sanosyan and US Peace Corps Country Director Sonny Luu were among the bus visitors. Peace Corps volunteer Trevor Brown was excited about the COAF exhibition. "It's good that you are in Gegharkunik. This region is very much like my home state Alabama – just as conservative and family-oriented.
At the end of the event, many residents of Vardenik said they would like to have COAF programs in their community as well.
The photo exhibition-bus will continue traveling around Armenia and visiting various festivals and events to present the 15-year history of COAF.