COAF Yellow Show Bus & Collectif Medz Bazar
On a fine June evening, COAF's photo exhibition bus stopped at Baghramyan Avenue, near the Lovers' Park. The bus was ready to demonstrate the COAF photo story to Yerevan residents and guests.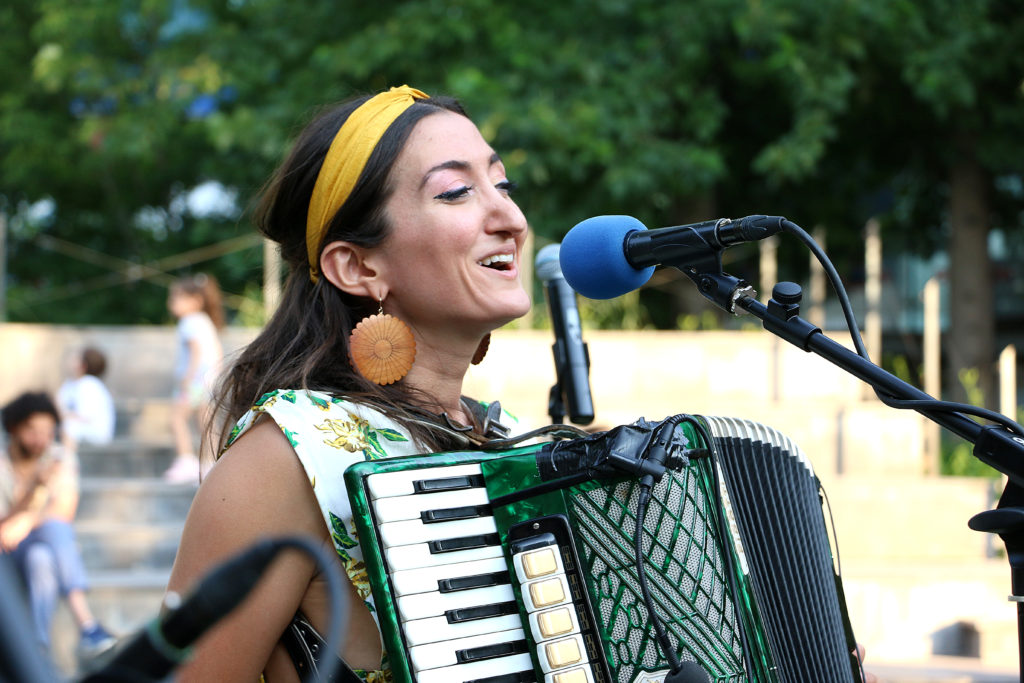 The bus regularly participates in various festivals and events throughout Armenian regions but this time Yerevan inhabitants as well had a chance to enjoy the exhibition and learn more about COAF activities.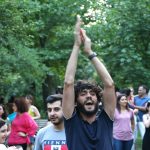 However, they could enjoy not only the exhibition but also Collectif Medz Bazar's concert organized by COAF. It was yet another event dedicated to the 15th anniversary of the Fund.
Collectif Medz Bazar, formed in Paris in 2012, is an urban diaspora band comprised of musicians belonging to Armenian, Turkish and French cultures. Drawing from their own and from neighboring traditions, the members of the collective create original arrangements of folk music as well as compositions of their own. Sevana, Vahan, Marius, Shushan, Ella, and Ezgi presented their trilingual art for 1.5 hours for the enthusiastic audience of the Lovers' Park.
The concert was an interactive one, with the audience singing along the tunes performed by the band.
COAF communications manager David Manoukian said that the concert was organized as a gift to the Yerevan residents and as yet another event in celebration of the 15th anniversary of the fund.
Collectif Medz Bazar founder Sevana Chakerian expressed her love for COAF, "It's the first organization in Armenia that I have collaborated with. We were conducting a music education project for kindergartens in COAF beneficiary communities."
The concert was over, and the musicians were ready to leave. However, they had to get back to the stage and do an encore since the audience kept demanding for more music. The event ended with a photo session with the band, with dozens of listeners standing in a line, waiting for their turn to interact with the musicians and buy their CDs.