How COAF children learn to manage their emotions
Scientists say that our success depends on emotional intelligence 80% and only 20% depends on IQ.
"Emotional intelligence or EQ is the ability to perceive, express, and manage emotions, to understand others' intentions, behavior and wishes, in order to solve practical issues", COAF Psychological Support Subprogram Manager Tamara Harutyunyan says. "Developing emotional intelligence can have lots of benefits for teenagers, and in 2017 COAF decided to launch EQ clubs in several beneficiary villages."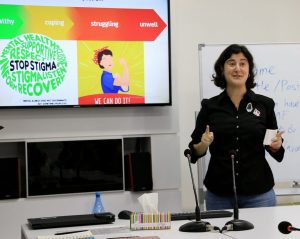 COAF EQ clubs cover the following topics: self-discovery, development, forming positive self-esteem, leadership, emotion management, behavior management, time management, stress management, conflict management, critical thinking, effective communication. Children at Emotional Intelligence  Clubs learn to recognize and manage their emotions.
Narine Movsisyan, the COAF SMART Center Child Development Corner Coordinator  thinks that managing emotions is very important for children because that's something that nobody teaches them at schools. "They don't know how to manage stressful situations, how to solve conflicts, and how to communicate. Our club sessions help them gain those skills."
Narine has worked at the first EQ club opened in April 2017, in Mets Ayrum, Lori. "Children that enrolled in the sessions were extremely enthusiastic. They wanted answers to such questions, as "Who am I?"  "What do I want from life?" "Why am I alone?" "How should I communicate with people?" The thing is, we don't directly respond to their questions but help them reveal their inner self."
One of the club students admits that he rarely talks during other after-school sessions, "Here I really learned to express myself."
Another one said that he used to fight with other children, "Now I hardly ever fight with anyone."
Thus, the Emotional Intelligence Club develops the ability to understand and express one's emotions, and to match one's own behavior with the feelings and interests of other people. COAF Child and Family Support team also holds workshops on Emotional Intelligence, with the participation of parents and schoolteachers.
Currently, COAF Emotional Intelligence Clubs exist in 4 beneficiary communities – Aragatsavan, Hatsik, Getashen and Sarnaghbyur.