13 Artsakhian families will have a place to call home
Starting life with a clean slate at a new home is the sole beam of hope and comfort to the many Artsakhian people displaced by the war. 
Months after the armed conflict in Artsakh (aka Nagorno-Karabakh), 150 displaced families are still hosted by families in our beneficiary villages. They are fully involved in COAF's ongoing programs (education, health, child and family services) in addition to the aid provided for them in the wake of the war. 
COAF's 2020 Moving Mountains virtual fundraising event, held in December, raised funds to provide dignified, sanitary housing for displaced Artsakhians. As many refugees are unable to return to Artsakh, addressing their immediate housing and health needs, as well as creating social safety nets and educational opportunities for families, remains one of COAF's most urgent priorities.  
For the past 65 days, our local partners have been constructing ten homes and renovating two houses in Dsegh and Debet villages COAF bought. Along with construction works, we install facilities, such as car parking, a 24/7 water supply, and a heating and electricity system.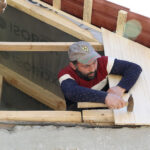 The house venues are selected considering their closeness to proximity, like schools, health posts, and shopping areas. The choice of the Lori region is not accidental either. We chose Lori's Debet and Dsegh communities, considering that it is closest to Artsakh with its nature.
The houses are being fully equipped ready to host big families. Everything is set for the families' well-being and peace of mind – from household equipment like refrigerator, washing machine, vacuum cleaner to furniture, kitchenware, and gardening items.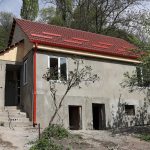 "The distribution of the houses is done with a deep understanding of the previous housing conditions and occupations of the families. We choose natural and high-quality construction and furnishing materials as if we would do for our own houses," says the housing project manager Ovsanna Yeghoyan.
Whenever having a choice, we opt for purchasing local products and partnering with Armenia-based organizations, especially ones operating in rural and remote areas. For instance, we order the furniture for the housing project from small furniture production in Karakert village. ARTVILLSHIN LLC, run by our beneficiary Artur Yengibaryan, was established thanks to COAF's loan and order requests back in 2005. Supporting small economies in vulnerable communities maximizes the impact of our work and connects rural Armenians living in different regions. 
The first batch of houses is approaching the final stages of construction, which means, 13 families will have their own roof and all the prosperous conditions for a dignified life by the end of May.
Show your support for our Housing Project for Displaced Artsakhians at coaf.org/donate.