One dedicated man changes the lives of many
In a place where opportunities are scarce, a young and ambitious man came up with an idea to broaden the horizons of children living in the village of Dalarik. Janik Tonoyan, a 26-year-old physical education teacher at the local school in Dalarik, started teaching members of the COAF Sports Club a game unfamiliar to most in Armenia.
"When I was studying at Artsakh State University, I joined the handball team, and it quickly became one of my favorite sports. When I moved back to my village and started teaching, I wanted to introduce something different to the kids. I felt handball can have a great influence on their lives, both now and in the future," says Tonoyan.
Tonoyan also wanted to promote gender equality among students and educate them on the importance of solidarity and egalitarian society. "Handball is a great game for integrating boys and girls, it teaches them how to play together, how to help understand one another and act cohesively to achieve a common goal."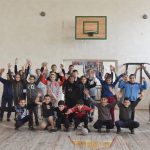 A year after the launch of the Dalarik handball team, Janik noticed significant changes in the attitudes of team members. Girls have shown increased interest in the sport, and boys have attended practices consistently instead of playing in the streets. Many of these students have even expressed a desire to become professional handball players.
Janik takes pride in raising his children who are independently shaping their individual personalities. "Ever since my kids began playing handball, they became different than other kids: wiser, more clever, calmer and more confident. "No words can describe my happiness when I see them walking into class and witnessing the enormous excitement in their eyes."
Janik also plans on training other coaches in neighboring villages, so that children throughout the region will benefit from the same opportunities offered by handball.