Children are not scared of medical procedures anymore
COAF partnered with Evocabank to renovate a healthcare facility in Koti
COAF-supported Koti village bordering Azerbaijan is one of the most vulnerable communities in Armenia. Last year Evocabank made a donation that went towards renovating two rooms in Koti healthcare facility. COAF organized and maintained control of the renovation project, as well as furnished the rooms with the necessary equipment and toys for local kids.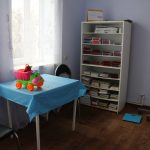 The newly-renovated facility was opened in February, evoking great enthusiasm among locals.
"We are so thankful to COAF and Evocabank," says Gayane Davtyan, a family nurse practitioner at the Koti healthcare facility. "It's so pleasant to work in a new environment. In the past, the local kids were scared to get vaccination shots. Now they come here and play with the toys and draw with the pencils COAF has donated. They enjoy being here and are not scared of medical procedures anymore."
The donation helped to cover the partial renovation of the roof, walls, and windows. COAF, on its part, improved the bathroom facilities, providing the clinic with a water pump and a tank.
"There used to be wooden windows that were half-rotten… There was hardly any paint left on the walls, and the radiators were almost decayed," says Silva Sukiasyan, the healthcare facility accountant. "We were using large buckets to fetch water for the needs of the clinic… Now everything has changed, we have nice rooms and safe tap water."
The mayor of Koti was enthusiastic about the health facility renovation, too: "The renovated rooms have far better sanitary conditions. Medical workers provide better services, and parents enjoy bringing their children over to the clinic… COAF has done a great job, as usual!"