Torture devices, Tumanyan & the road to success
Gayane Kharatyan, 17, is a member of the COAF SMART Center Up SOS band. She was happy to learn that SMARTConnects was going to host Mher Manoukian, the co-founder and lead singer of the Vanadzor-based Lav Eli band.
"We love their songs very much, especially Garun and Ko Achker," Gayane says. "We were quite excited to learn that our group would open the performance of Lav Eli at SMART. We play the songs by Bob Dylan, Victor Tsoy, as well as Mher Bekchyan from Vanadzor."
Up SOS was launched six months ago. There are seven teenagers from Dsegh and Vahagni communities in Lori – they play the guitar, the bass guitar and the percussions. Their instructor is Davit Galstyan from Vordan Karmir rock band. He tells that the Up SOS members have mastered the instruments just a few months ago, "And now they can play, for example, rock arrangements of folk music. This event will be very useful for them."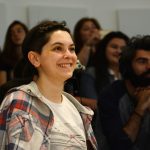 The meeting with Mher Manoukian was really exciting for young musicians. He had arrived with his daughters, Shogher, 18, a cellist, and Arpen, 15, a flutist. They played the most famous works by Lav Eli for the audience, mainly consisting of young people of their age. "We have already been to the COAF SMART Center," the sisters mentioned. "It is very important that SMART has been built in a rural area. We should not concentrate on Yerevan only. These children are not to suffer just because they were born in villages. They should have equal opportunities."
Mher Manoukian went back to his childhood when turning on some music was the only way to stop him crying. He told about the road the band had to take, the times when musical instruments looked like "agricultural tools or torture devices." "However, a man can achieve his dreams in any case and overcome any hardships. One should not complain. Tumanyan has lived in hard conditions but has created fabulous works. The human factor is the most essential one."
Mher advised the children to never give up and always try to find like-minded people, "Always look for honesty. Just remember that there are lots of truthful and kind people in the world. Read Tumanyan's works a lot. Find your connection with the world."
After the meeting, Ani Ghulinyan, a member of Up SOS band said, "If you live in Lori region and love good music, it means you know Lav Eli. In fact, everybody knows them. The audience was full of people from Yerevan and other communities. I was very much excited to learn I would have the chance to listen to Mher Manoukian's performance. I play the guitar, and I think I can learn a lot from him.