Our way of taking care of the environment
Just like people, organizations have their characteristics, behavior, and attitude. Speaking for us, one of the qualities COAF people have is the love and appreciation for nature.
Through our educational programs and social initiatives, we prepare the new generation to lead our society toward a more sustainable future. We aim to promote the well-being of humans and their natural environment. Today, let us tell you about some of the ways we try to forge an eco-friendly atmosphere around us.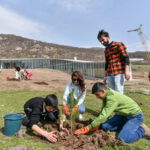 Seeds of growth
The COAF SMART Center is not only an educational center but also a promoter and implementer of rural economic development programs in the region of Lori. To create sustainable livelihoods for households in Debet village and the surrounding communities, with the support of the Global Environment Fund and UNDP in Armenia Small Grants Program, we have been implementing the "Sustainable Income in Debet Community through Effective Household Management" project, since September 2018. Within the framework of the project, a park has been established at the COAF SMART Campus, where more than 20 varieties of raspberries, blackberries, and currants have been developed. The park is equipped with hail, string, and drip irrigation systems.
Over the years, we initiated tree planting activities in our beneficiary villages including Karakert, Lernagog, Debet, and others. Living close to nature, children should be aware of the importance of taking care of the environment – planting trees and taking care of them is an investment in a healthy and happier planet.
Environmental Summer School
In summer 2019, we organized a summer school for our Environmental Education League in Dilijan. Seventy participants from Shirak, Tavush, and Armavir regions, gathered to study waste management, water purity, a healthy lifestyle, flora and fauna, and more.
"Nowadays, almost a year after the camp, we are glad to see our students continue to raise awareness about environmental protection in their communities," mentions Meline Grigoryan, the Education Programs Manager at COAF.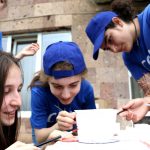 Reduce, reuse, recycle 
Cycling is good both for health and the environment, it can reduce air pollution levels. In September 2019, some of our staff members participated in the launch of YerevanRide, Yerevan's first bicycle-sharing program that allows environmentally-friendly transportation.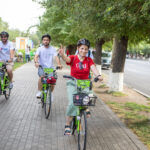 We believe that an example is the best way to teach!
Our Yerevan office has been recycling plastic and paper for already a year. We partner with Innovative Solutions for Sustainable Development of Communities Armenia to support its mission of ensuring sustainable development in Armenia through the implementation of innovative projects in waste management.
In 2019, we recycled 40 kilograms of paper and 30 kilograms of plastic. We try to expand this culture in as many COAF units as possible.
What about you? Do you recycle in your office?