COAFians master the art of anchoring
Since early spring, we have had multiple occasions to convene with our students, beneficiaries, and online community digitally.
Our virtual events have included:
 INSTALIVE series on Instagram Live (talks with famous and successful professionals),
Online SMARTConnects on Facebook Live (the online format of our monthly networking events of the COAF SMART Center).
A virtual tour at the Museum of Russian Art
Though everyone is behind their gadget screens, such meetings are intimate, enable two-way communication, and can be saved for later watching. They also provide an interactive and entertaining learning experience for our students from 64 rural communities of Armenia.
On June 23, the guest speaker of our yet another online SMARTConnects was the journalist and anchor Mher Khachatryan, widely known for his stand-up comedies and TV shows, including ArmComedy, a satirical news show that covers local and international politics.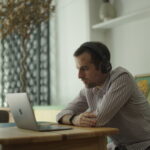 A specialist in Iranian Studies by profession, working in the TV industry, and playing in a sitcom was first challenging for Mher. Content quality is a fundamental factor for him, and he is often picky when choosing projects to participate in.
Mher emphasized that the genre of comedy is broad and varied, whereas, many comedy shows in Armenia are limited in political humor. "Comedy shows should relieve people's stressful day by alternative content and allowing a few minutes of a good laugh," he explained.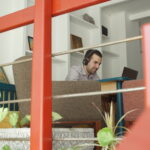 He also talked about the importance of critical thinking. "Try to surround yourself with people who wish you good, but are also ready to criticize you or your work whenever they feel necessary," mentioned the journalist whose first critics are his family members.
During the 1,5 hour online meeting, our students got answers to the questions they were curious about. Zhak Srapyan is one of our COAF School education students from the village of Aragatsavan, Aragatsotn Province. "Such online meetings give us positive experiences in the times of pandemic. In the heavy flow of stressful news about COVID-19, it's great to communicate with personalities such as Mher Khachatryan and have a sincere and intimate conversation with them," mentioned Zhak.