Like father, like son: growing raspberries in the home garden
Raspberry has become a unique symbol at COAF apart from being the juicy appetizing fruit that decorates our summer tables.
The berry that derives its name from French word raspise, "a sweet rose-colored wine", is part of our several initiatives. First, as part of our economic development programs in partnership with the UNDP – GEF Small Grants Program, we have provided raspberry bushes to 96 households of six rural communities of the Lori region.
Second, we have a lush raspberry farm on our COAF SMART campus. Over 25 varieties of raspberries, blackberries, and currants, grow in our SMART farm, established through the funding of UNDP. The harvest serves the guests of our Concept Hotel by COAF, both as fresh fruit and jam.
Finally, our COAF SMART Agritech program students and many COAF beneficiaries living in Debet, Yeghegnut, and Dzoragyugh communities have been trained in raspberry farming and effective agriculture.
The goal of our Agritech Program is to introduce students to the directions of agriculture, the technological solutions used, and the methods applied in practice. "The participants gain knowledge in gardening, agriculture, cattle breeding, and beekeeping. We use and promote organic agriculture techniques so that the new generation can bring that culture to life in the future," mentions Suren Harutyunyan, the Agritech Program Instructor at the COAF SMART Center.
Khachatur Hakobyan, a father of two, from Vahagni village, received raspberry bushes from COAF in 2018. His son Hamlet is an Agritech student at the COAF SMART Center. Inspired by his growing knowledge in agriculture, Hamlet has been helping his father in cultivating the raspberry bushes together with the variety of vegetables that grow in their farms: potatoes, beans, tomatoes, cucumbers, as well as relatively new ones for the local market – broccoli and Chinese beans.
Hamlet, 16, has bought and installed a drip irrigation system himself at their yard. "This water system enriches the harvest and allows us to save more time on watering," explains the young and gifted gardener.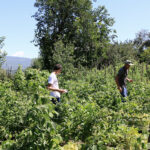 The summer was full of practical knowledge for Levon Hovhannisyan, 14, our other Agritech student from Vahagnadzor village. Levon has been helping his parents trim and cultivate that two-year-old raspberry bushes that grow at their home yard, next to apple and plum trees, cucumber, and bean bushes.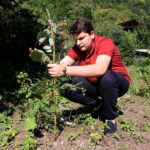 And just like that, like father, like son, our beneficiaries utilize all the possible resources to contribute to the well-being of their families and the economic growth of their communities.
Want to change the world? It starts at home.