Quarantine memories: how the remote life worked for us
About six months ago, when we were switching to quarantine life, we would hardly imagine it would take us almost 180 days to get the green light of leaving our "home offices" – living rooms, bedrooms, and kitchens, to return to the office.
"I cannot tell you how quickly either treatment or vaccines will be developed, but it is best for us to face a reality that may involve living with COVID-19 for sometime… and maybe for a long time," mentioned COAF Founder Dr. Garo Armen in his message regarding COVID-19 back in May 2020. His words turned out to be more than true for the world population that would face a year full of challenges.
As our work in education, health, social, and economic services, has a direct influence on human lives, we couldn't lose a moment to come up with efficient solutions to continue standing by our beneficiaries in the times of COVID.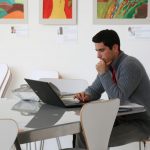 COVID Emergency Relief Fund
The pandemic reminded us that health and safety matter more than anything else in life.
Following most of the COVID-19 safety guidelines depends on additional financial resources such as purchasing masks, gloves, and sanitizers. Another fundamental factor is the awareness of the importance of staying home, social distancing, avoiding crowded places, as well as isolating and referring to doctors whenever having COVID symptoms.
Thus, the health of rural Armenians was at risk, and their existing social-financial burden would be heavier for the upcoming months. Thanks to the COAF COVID-19 Fundraiser and our European partners EU Armenia, The Austrian Development Agency, and the Republic of Estonia, we came together to stand by our villagers in these challenging times. As a result, we spent $163,000 purchasing vital medical supplies and equipment for 50 rural health facilities and primary food and supplies for 2218 families.
Though COAF does not provide individual aid or any financial support targeting individuals and families directly, our COVID Emergency Relief Fund was an exception, crucial to the health and well-being of our beneficiaries.
Distance learning made possible 
Shortly after the outbreak of the virus in Armenia, we transitioned our education programs to online mode, starting March 18. As a result, we prepared online learning materials for over 26 COAF SMART and village school education programs.
How it worked – remote work
COAF has been going paperless and adapting digital solutions to different aspects of our administrative work for more than a year. The cutting-edge communication tools and digital database of our working files made the remote work transition smooth and unimpeded.
"Having used tools like Slack, Zoom, and Google Drive made our online communication very easy – there was nothing we couldn't access while working from home," mentions Anahit Hakobyan, the Village Programs Manager at COAF.
Being apart, our teammates didn't lose the connection with each other. Every day we used an internal check-in tool that allowed us to monitor the health condition of our staff in the scope of their direct interactions, as well as offer any possible help they might need from us.
For many, staying home and working remotely, meant spending less on transportation, lunches, and night outs with family and friends. "The first months of quarantine were fine. I liked working in a quiet and cozier atmosphere. I surely made some savings due to not spending much on chocolate," jokes our Education Programs Manager Lilith Hakobyan.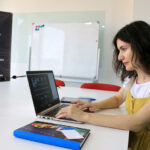 Our six months of quarantine was a period of unfamiliar challenges, new feelings and observations. And how are your memories of quarantine?