Komitas in English at SMART
That Thursday afternoon at SMART was a bit different than others, i.e. the SMART students aged 6-18 were at SMART yet, therefore the SMART center was not yet full and crowdy, but engaging beats coming from the amphitheater were calling everyone.
As it appeared, it was Sebu Simonian with his charming wife rehearsing before…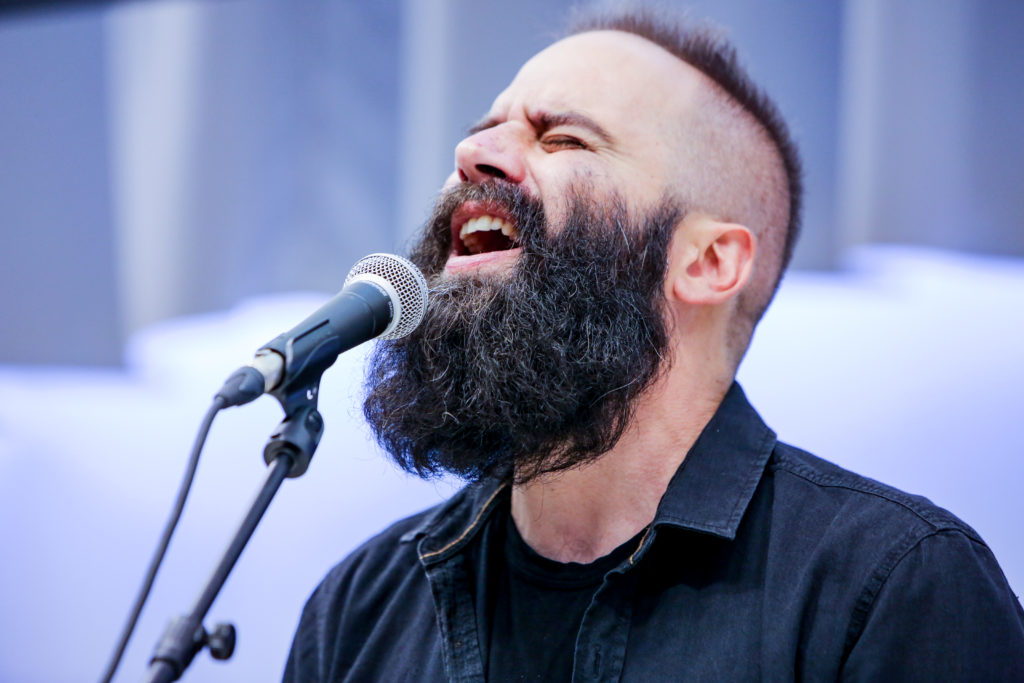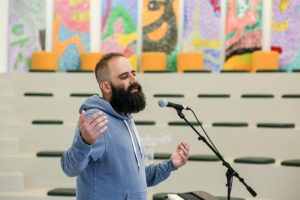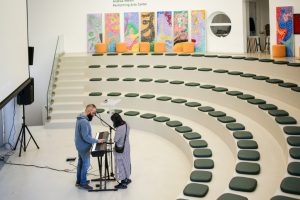 Everyone would think that he was passionately preparing for an important and responsible event. And that's true. Sebu was at SMARTConnects and he was going to talk to the SMART kids and teenagers from the region of Lori, guests from Vanadzor as well as sing and motivate them to dream big.
As time was getting closer to 4 pm to start the event Sebu was enjoying nature around the SMART.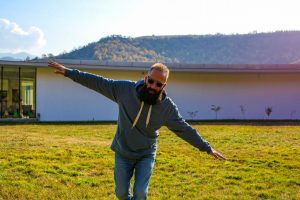 As the guests appeared and filled the amphitheater Sebu opened the event with a nice and still not recorded song, which he wrote 20 years ago and was changing it continuously. Finally, it was called "Keep a light on". This was a brilliant example for our students that very often artists work on their art pieces for years and decades until they have it complete.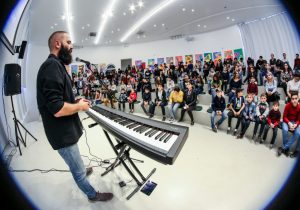 In between the performances he was speaking about his journey in the world of music, which started from early piano classes and singing in the school choir. Not always we are very enthusiastic about anything we do, but then some people or circumstances appear and change everything, including us. Though Sebu was not too enthusiastic for the music classes in the very beginning but listening to The Beatles and Pink Floyd totally changed him. He created a rock group and started to produce rock songs. Now Sebu is in the pop duo "Capital Cities" with Ryan Merchant.
The "Safe and Sound" of Capital Cities was the next great performance the SMART audience enjoyed.
This song has an interesting story behind, which most probably many of us don't know. It was initially a soda commercial song that was rejected by the client, therefore Capital Cities decided to record it and it became a very popular song.
The COAF SMART Center provides a wide range of opportunities and modern technologies to the rural kids to learn and develop, therefore Sebu encouraged our SMART people to practice and practice continuously as they are lucky to study in a modern center like SMART in the middle of their villages.
Our guest then started to answer questions from the audience, and as it turned out from one of the questions, he is a fan of The Beatles and Pink Floyd, and most probably the "Imagine" of John Lennon is his favorite song. He even played a piece of it. Sebu is a fan of also Arno Babajanyan and Aram Khachaturyan. "Vagharshapati par" (Dance of Vagharshapat) of Komitas adapted by Babajanyan is one of his favorite works.
The emotional peak of the event was achieved when the audience enjoyed "Yes Saren Kougayi" ("I came down from the mountain") of Komitas with a part translated into English. This way Sebu wants the western world to get to know Komitas better. After this performance, the applause did not stop for a long time.
As usually, our guests don't leave the SMART soon after the event, as they are open to taking photos with our kids and teenagers.