Saving people is more important than winning
Snakebites, fractures, loss of consciousness and… demonstrating artistic skills at first aid competition held at COAF SMART center.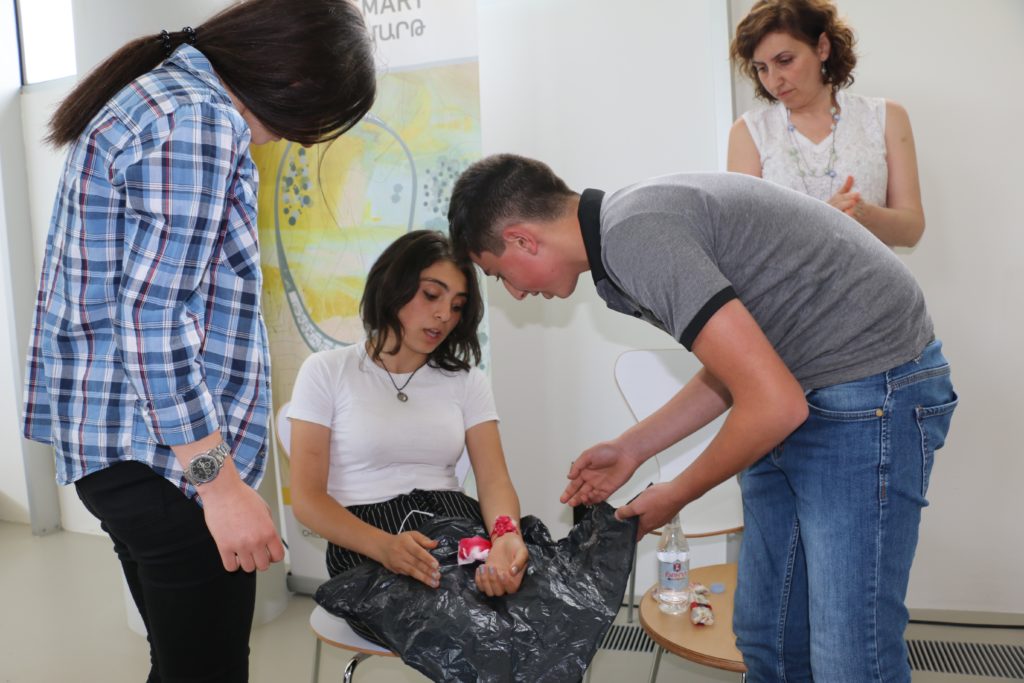 Meet Shant Yeghikyan, 14, from Dsegh village in Lori. Shant's great aunt has a heart problem, and he has decided to become a cardiologist to treat her disease. Last year Shant became a member of COAF Healthy Lifestyle club at his local school. He thinks he has learnt a lot about healthy lifestyle and first aid during the club sessions. "There is so much misleading information about first aid techniques," he says. "For example, I used to think that, to handle a snakebite, you should suck the blood out with your mouth… However, when I enrolled in COAF Healthy Lifestyle club I learnt I was wrong and found out I should immobilize the bitten limb and get medical help as soon as possible. I learnt what the real do's and don'ts are in other emergency situations, too."
Treating snakebite is not the only skill that children from COAF beneficiary communities learn at Healthy Lifestyle club. Throughout a year, teenagers study oral and personal hygiene, eye care, healthy eating, the dangers of cigarette smoking and alcohol use, STD prevention, basic first aid skills.
As COAF Health Subprogram Manager Lusine Sahakyan said, "We teach skills that are vitally important for everybody."
The Healthy Lifestyle program ends with an annual competition where teenagers demonstrate their practical first aid skills. This summer, the final phase of the competition was conducted at the fabulous newly-constructed COAF SMART Center. The participating teenagers were from Dsegh, Lori and Berdavan, Tavush.
Club leaders from both villages arrived at the SMART Center to support their students. Irina Zurabyan, the Berdavan School Healthy Lifestyle club leader, thinks it is essential for everybody to learn basic first aid skills. "We hope that our children will manage to stay calm in any emergency and help the injured before doctors' arrival," she said.
Gayane Tumanyan, the Dsegh healthy lifestyle club leader and Lori Region School Health Program Coordinator, thinks that children should be ready to respond properly to every challenge they face. "If you know first aid techniques, you can save somebody's life," she said.
During the competition, 16 children from Dsegh and Berdavan had to display their skills obtained at Healthy Lifestyle club sessions. Their main task was doing the right thing in case of fractures, snakebites, loss of consciousness, excessive bleeding from cuts and wounds, fingertip amputation, choking. The Berdavan team became a winner, scoring the most points and… demonstrating artistic skills.
After the competition, 15-year-old Nonna Hovakimyan from Dsegh said that learning new things was more important that scoring high. "For example, I will manage to help people in difficult situations before medics arrive. That is far more significant than winning."