The Roads Leading to Ararat and Island Peak
"Why do people climb mountains, after all? Why do they risk their lives?" a COAF SMART Center student asked Gevorg Gasparyan, a mountaineer and a hiking expert. Two months earlier Gevorg had climbed the Island Peak, a challenging mountain with an altitude of 20,305 ft in Sagarmatha National Park of the Himalayas of eastern Nepal.
"That is one of the most frequently asked questions," Gasparyan said, thoughtfully. "Actually, people make huge efforts to face challenges and achieve their goals. You have to overcome thousands of difficulties in order to get to the peak."
Overcoming challenges, aspiring for the impossible, not giving up and reaching the peaks are considered to be usual for mountaineers. However, children attending the COAF SMART Center also have their difficulties, goals and dreams. The COAF SMARTConnects project provides them with a chance to meet successful and celebrated people and get inspired by their fascinating stories. This time children were extremely excited to meet a real mountaineer at SMARTConnects.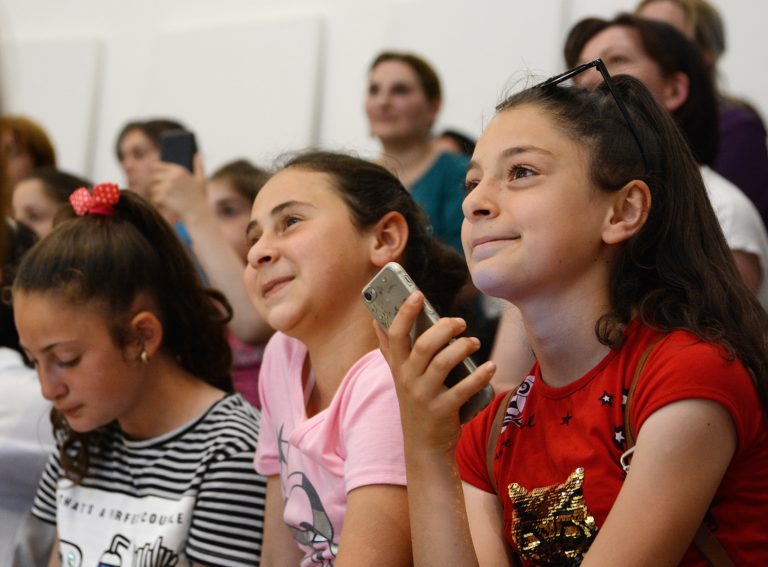 The kids were especially impressed with the fact that Gasparyan had climbed the Peak of Ararat for 17 times. And their parents kept asking about age restrictions for starting mountaineering.
Gasparyan answered that lots of children take part in the hiking tours organized by Armenian Hikers Association. "There is a 13-year-old girl that has climbed the Ararat mountain with us," he added, proudly.
Gasparyan told about his hiking and climbing experiences and demonstrated lots of photos picturing Kazbek, Elbrus, Mont Blanc, Island Peak and Ararat mountains.
Some COAF SMART Center visitors were also interested in Gasparyan's entrepreneurship projects. The mountain climber told about his Arevi hotel that was completely made of truck containers. The hotel is located in Yeghegis community, Vayots Dzor region of Armenia.
"People that do their best to overcome challenges eventually make it to the peak," was Gasparyan's piece of advice to the audience.