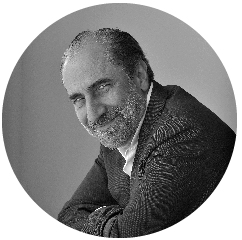 Garo Armen, Ph.D.
COAF Founder & Chairman
Though I was not born in Armenia, I am an Armenian. Born in Istanbul, and living in New York for much of my life, I did not visit the country of Armenia until later in life. It was not until I first visited Armenia's rural villages in 2003 that I witnessed the terrible conditions children lived in– what I witnessed was a true human tragedy. I was in the village of Karakert, in Armavir province, where the school laid in disrepair; it's students learning in classrooms without walls that had been bombed-out in a conflict years before. The level of poverty in Karakert was severe, and the impact on its people was the same. I spoke to a village elder who told me of dire outlook these conditions had brought on the local people. "Our children attend school for a future that doesn't exist," he said. "We have no jobs. We live off the land." Conditions had dampened the spirit of this old man, but I knew that in all villagers there is an unbreakable spirit and a unique potential to achieve what's grand. The children in Karakert and students across Armenia should for no reason be deprived of what they deserve: their own education and opportunity to advance themselves.
It was in that moment that the Children of Armenia Fund was born, and we set off to improve education, healthcare and other local systems, and bring a positive impact to the lives of village youth across Armenia. Thanks to a few of my friends who trusted me, we hit the ground running in Karakert, and set out on a movement to make a lasting change, one impoverished village at a time.
COAF was founded to provide children, youth and their families with opportunities to realize their potential and achieve their own unique greatness. Though the people of Armenia have endured so many challenges in the last 100 years, their spirit is unbreakable. We empower them to define their own future and create a new Armenia, a new Armenia that they are proud to build themselves.
We started with one village in 2003, Karakert, a village of about 5,000 with 1,250 children among them. Working in close partnership with village leaders we looked to address the unique local challenges of Karakert, and by 2006 the village had a renovated kindergarten, primary school building, health clinic, and community center, all with running water and indoor lavatories, and we had also begun work on projects in 5 neighboring villages.
Now after 15 years of experience working on the ground around the country, COAF programs and projects have benefited more than 40 village, improving the lives of more than 75,000 people. We have advanced education, healthcare and economic conditions with dramatic results and helped to create model rural communities where people are thriving today.
What began in Karakert will soon reach all 1.5 million Armenians living in rural villages, as we look to reach every impoverished community across the country with COAF SMART. COAF SMART will help provide every single child with the essential opportunities for self-development and growth.
COAF SMART continues the comprehensive approach that began in Karakert, working with villagers to set priorities and build the infrastructure, physical and institutional, that will allow them and their children to succeed far into the future. We are helping the new generation of Armenians to shoot for the stars, guiding them, helping them, empowering them to create, in arts, music, design and motivating them to invent next generation technologies. They are capable and need only access to resources to achieve their own unique greatness.
I invite you to get to know COAF better and understand the work that we do.
Yours sincerely,