The First Helicopter lands at COAF SMART Center
Children of Armenia Charitable Fund (COAF) launched a new promising partnership with Armenian Helicopters Air Company. The first helicopter landed at the COAF SMART Center located in Debet community, in Lori region of Armenia.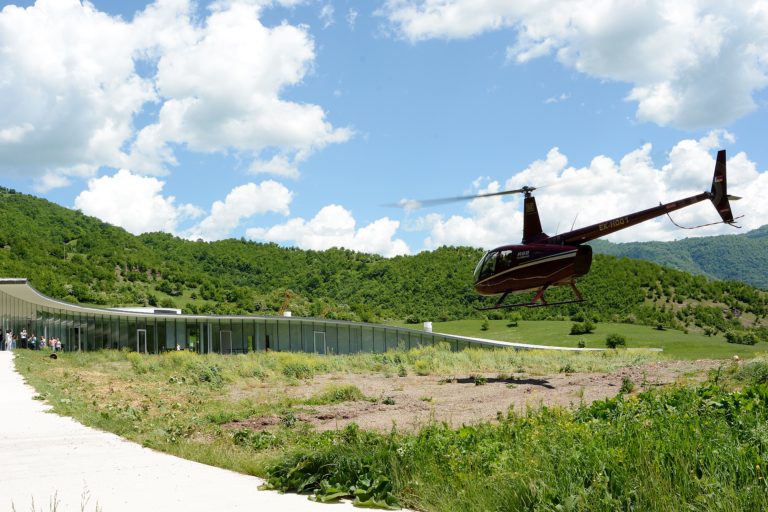 "COAF SMART is an innovative center contributing to the development of rural communities. The partnership with Armenian Helicopters will make the SMART Center more accessible for our visitors from different parts of Armenia and abroad. The guests for whom time is a crucial matter will find helicopter flights extremely useful," says Korioun Khatchadourian, the COAF managing director.
While it's a pleasant two-hour car journey towards COAF SMART Center from Yerevan, it takes the helicopter just half an hour to get there from Yerevan. Thus, reaching the SMART Center has now become easier and faster than moving sometimes from one Yerevan district to another.
Through the partnership with Armenian Helicopters COAF has made just another step towards bringing the world closer to remote rural areas of Armenia. This partnership will also boost the expansion of small aviation business segment in Armenia, which, in turn, will contribute to regional development and tourism in Armenia.
Since helicopters with small takeoff weights do not require special helipads, the crew had the right to choose the best landing spot. In this case, the helicopter landed on the most perfect spot – right in front of the promenade of the COAF SMART Center. Thus, the passengers can walk directly from the promenade into the COAF SMART Center.
Arsen Manukyan, the Armenian Helicopters CEO, considers the partnership to be of great importance. "From now on, the COAF SMART Center will become more accessible for the guests that prioritize their time. We also plan to cooperate with the youth involved in the COAF SMART Center after school clubs as well, as adults. For example, we can conduct joint projects with the Center attendees interested in aviation modeling, digital drawing, tourism, and business development."
The young students of the SMART Center were very excited by the sight of the helicopter landing beside the SMART Center. As mentioned by Krist Marukyan, the COAF SMART Center manager, "The children visiting the COAF SMART Center will once again see that the ways and opportunities of communicating with the world are unlimited."
The collaboration between Children of Armenia Fund and Armenian Helicopters is yet another move that will contribute to the innovative development of rural Armenia, tourism, and expansion of modern technologies across the country.