Honey is one of the oldest foods consumed by humans; beekeeping is a branch of agriculture that has been widespread in the Armenian highlands since ancient times. Honey is an integral part of an Armenian breakfast table, and beliefs about its health benefits pass down from generation to generation.

Beekeeping to Empower Economic System
Considering this potential COAF is building capacity to boost the beekeeping industry, along with several agricultural and business development initiatives in Lori's Debet village. COAF's Beekeeping to Empower Economic System (BEES) project, implemented with the financial support of the Lithuanian Embassy in Armenia, is one of the COAF-supported business projects aiming to use Lori's hidden potential and enhance the entrepreneurial spirit in the region.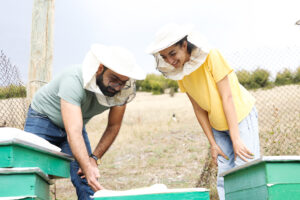 Within the framework of the project, 14 farmers, including youth, partake in two-month training by obtaining advanced theoretical and practical skills in beekeeping, as well as a one-month training for business plan writing, marketing, and management. The participants will later be provided with beehives and the necessary equipment to boost honey production. What's particular, 50% of the participants are women, which reinforces COAF's efforts toward female entrepreneurship in the community.
The project aims to:
develop premium honey production know-how among socially disadvantaged farmers,
establish an innovative Beekeeping Center as a hub for training, production, and sales,
create 12 new job opportunities locally,
increase the number of beehives by 20%,
enhance premium honey production by 25%.
"We envision creating a cooperative that will regulate the harvesting works, combining and marketing the collected honey under one brand. The honey produced in Debet village will undergo laboratory examination, have its unique branding, taking its place among the best honey brands of Armenian production," mentions COAF Business Projects Manager Shushan Danielyan.
What makes good honey?
One can endlessly dive into the philosophy of a beehive and its ideal operation mechanism that only Mother Nature could create. So, what is necessary to get premium honey, and what are the preconditions for beekeeping in the Lori region?
"Lori has a multi-flower environment—over 2000 nectar-rich species, including acacia, lychee, and thyme, grow here. The closer we are to nature, the better quality of honey we can produce," explains beekeeping expert Vigen Mnatsakanyan from Arm Bee Honey Farm.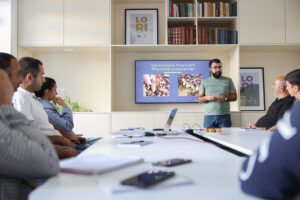 Besides the favorable environment, it's crucial to have a competent approach to honey bee maintenance. "There are many households occupied with beekeeping in Lori Province, but whenever they encounter a problem, for instance, when a bee gets sick, they have no one to turn to for professional guidance to solve the issue," continues Shushan Danielyan.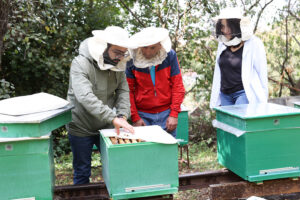 To fill in the gap, COAF has established a Beekeeping Center on the COAF SMART Campus, which will become a beekeeping demo corner in the region. "The center will serve both for the work carried out within the framework of the BEES program and for the experiments within the COAF SMART AgriTech program. It will simultaneously contribute to other economies in the surrounding communities as a consulting and support center," says Suren Harutyunyan, the Instructor of the AgriTech Program of the COAF SMART Center.

Is beekeeping a profitable business?
"Honey has high demand in Armenia, and it can undoubtedly be considered a profitable agricultural business. Besides the production of honey, one can produce queen bees, honey bees, and honeycomb for profit," adds Vigen Mnatsakanyan. Along with its local consumption potential, Armenian honey is exported to the United States, Russia, and other countries.
By empowering and providing necessary resources to existing beekeepers and preparing the next generation of successful young beekeepers, we strive to make Armenian villages a place where people can have a decent life, realize their potential, and make a good living.
If you think likewise, join our mission!