When revolving around the northern Lori region of Armenia, you'll feel a solid contrast upon entering Tumanyan, a community with signature architecture, maintained roads, and crowded streets. Previously a village, Tumanyan has received a status of a town since 1995.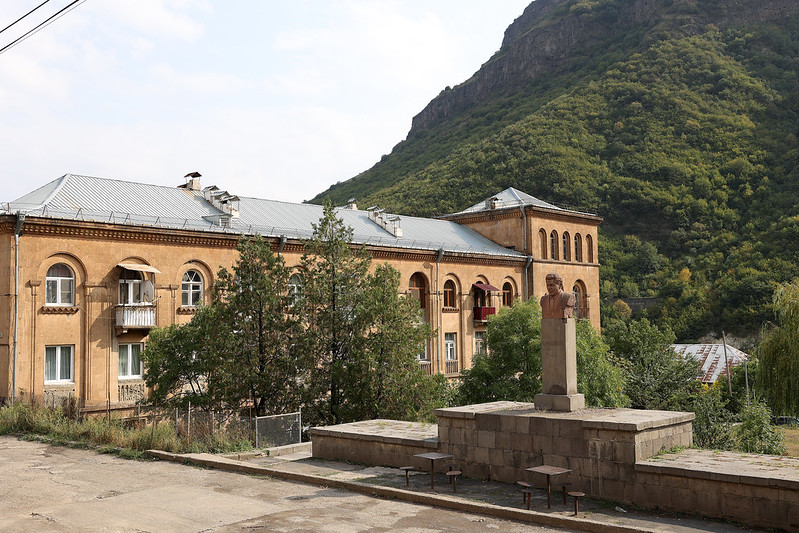 The unique architecture: multi-floor stone buildings have been "gifted" to the city by German residents since the 2nd World War. Locals say Germans moved to Tumanyan to work at the local brick factory that produced fireproof bricks to import to Russia.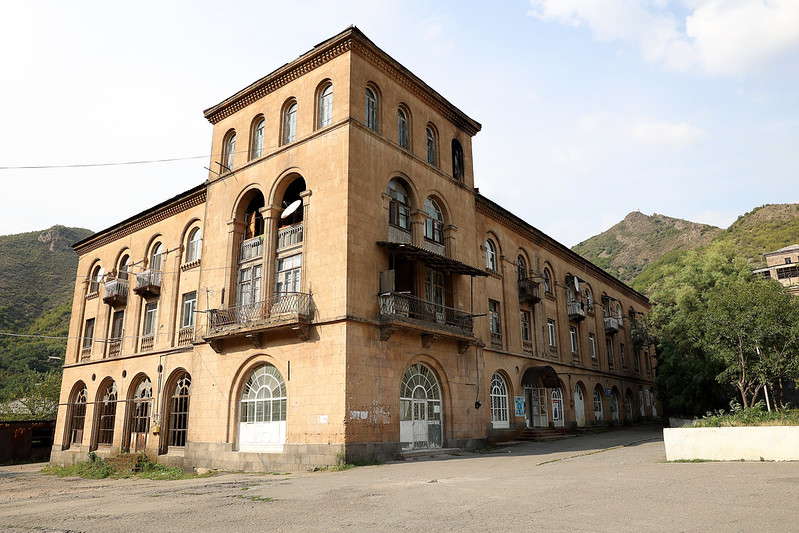 Neither the factory nor the Germans are part of the present-day town of Tumanyan, but the buildings live on and remind visitors of Yerevan's "Cascade".   
The architecture is one-of-a-kind, but the real vibes of Tumanyan are the vigorous children, namely professional fishers and footballers you can meet everywhere in the town.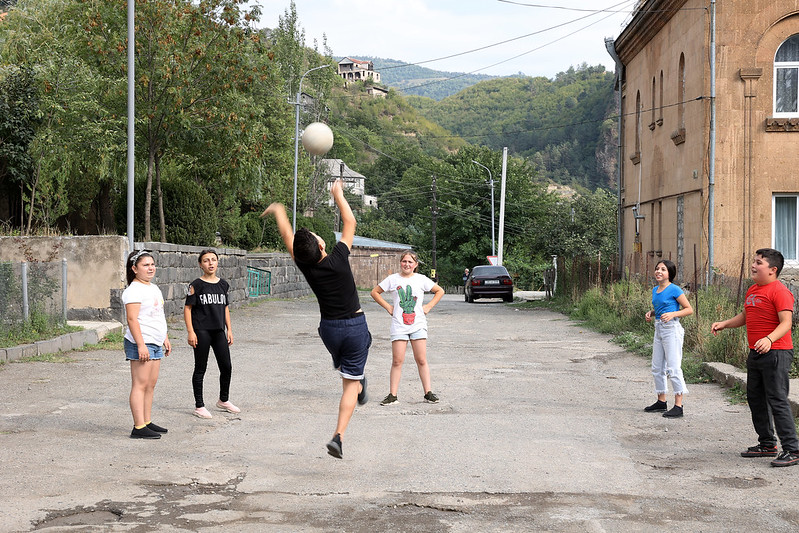 The kids of Tumanyan go fishing the way people go to work each day: finding tiny fish gives them a great sense of satisfaction. River Debed that washes the shores of the community is their everyday gathering place.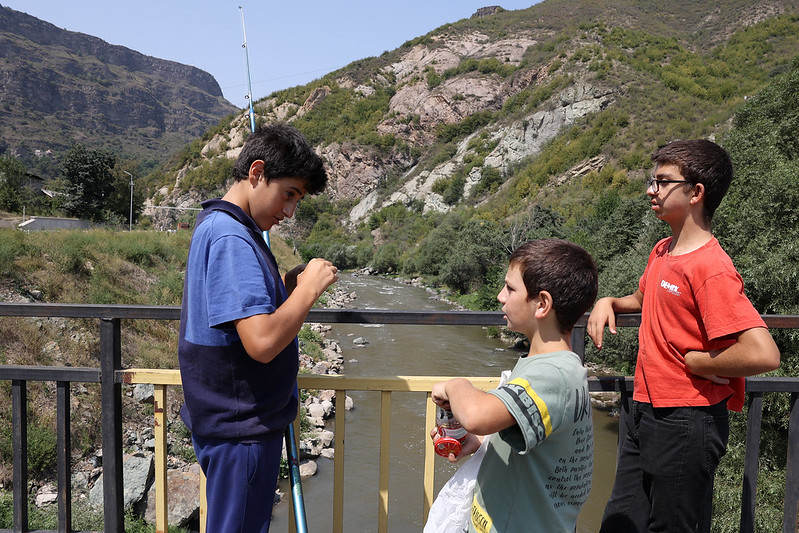 Some do fishing standing on a bridge, some — on the bank, which is considered a riskier zone. "There might be water snakes," calmly explain the fisher guys courageously standing in that same dangerous area. 
Close to one hundred students attend the secondary school of Tumanyan. They also participate in after-school activities in the SMART Room established by COAF. The technologically advanced room serves various purposes, from educational to cultural.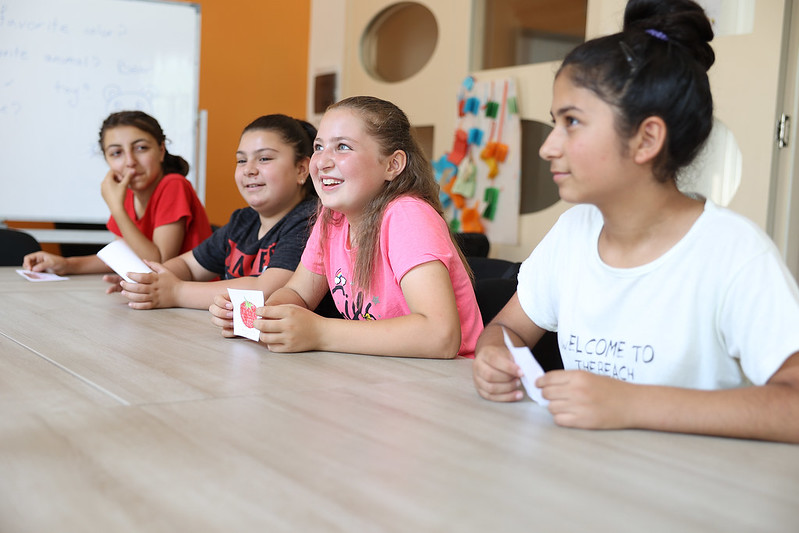 Recently, Aseman Barani from Iran visited Armenia as a volunteer to teach English to community kids. "Tumanyan is a quiet, beautiful, and extremely safe place," says Aseman, feeling secure in a country that has been in the midst of war.
Aseman also helps out the recently-opened Matchbox Museum of Tumanyan by providing English tours for international visitors. The museum has recently hit the big time with its over 10,000 samples of matchboxes.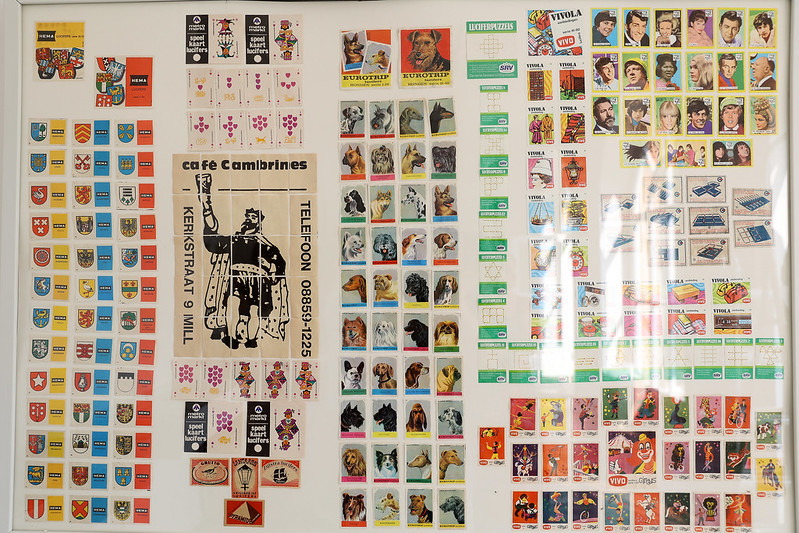 "Each matchbox has its meaning. Decades ago, matches were used to disseminate information: some are about the rules of transportation or hygiene, the origin ranging from the Soviet Union, Japan and many other countries," explains COAF SMART Center alumna Lilit Movsesyan.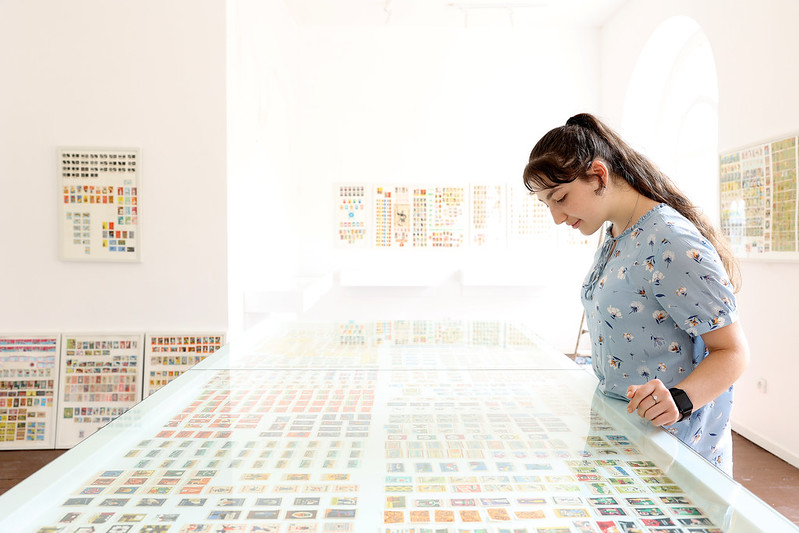 Part of Tumanyan's cultural life is the Cultural House, home to ancient pots, cribs, and jars.