Eighty-five percent of COAF scholarship holders are female students from rural Armenia. Though empowering young women as active members of societies is a principal approach to our education initiatives, engaging young men and providing them opportunities in education and professional development becomes critical considering the objective reality.
Meet Hayk Mkrtchyan, a 22-year-old COAF alumnus and scholarship holder, who's a great example of a man who carries out different duties with dignity. To enumerate a few, Hayk has been engaged in his family's small business from a young age, has served in the Armed Forces of Armenia, is actively involved in public activities, currently studies Finance at the Armenian State University of Economics, and takes steps to make his dream business a reality.

Connection with the land
Born in Shenik, a small COAF-supported village in Armenia's Armavir region, Hayk has enrolled in as many COAF education programs as possible, such as the student council, professional orientation, English Access, basketball, Drama therapy, COAF Alumni Incubation, and scholarship program together with his younger sister, another true-blue COAFian, Anush Mkrtchyan.
"COAF has helped us to perceive living in the village as an advantage. Village life makes you experience a lot—to have a strong connection with the land, thus strengthening the bond with your homeland," says Hayk.
The first reckoning of a future finance professional
Having attended COAF's professional orientation program, Hayk fell in love with the field of finance and pursued a career in it. If young people often gain education first, then obtain practical experience, Hayk's case was vice versa. Involved in their small family business in Shenik from a young age, he actively participated in the day-to-day operations of their grocery store, including its accounting. "It is interesting to study about a field which you know well from a practical side," he says.
Army years: a new worldview
Just like many of his agemates, Hayk fulfilled his duty to his motherland by serving in the Armenian Army. He considers that period a life-changing experience that dramatically impacted his worldview. "I started to see and appreciate things differently."
Both as an active citizen and a man who's been on the border, Hayk thinks that Armenia is in need of multifaceted development and that everyone should be in their places and do their job with utmost responsibility. "Not only do we need weapons to fight, but we also need good bakers to make bread, good builders to construct, and so on."
Hayk thinks our society has unfortunately gotten used to the war. "We've learned to live with the war, but, as they say, the night is darkest just before dawn. We shouldn't get used to the war—we need to defeat it."
Armed with new ideas
Hayk partook in the COAF Alumni Startup Incubation Program in 2021 as a member of the "etHome" group, which won 2nd place in the project and was granted $3000. The goal of "etHome" is to create a network of guest houses in the border villages of Armenia, which will give visitors an idea of ​​the ancient kingdoms, culture, and history of Armenia.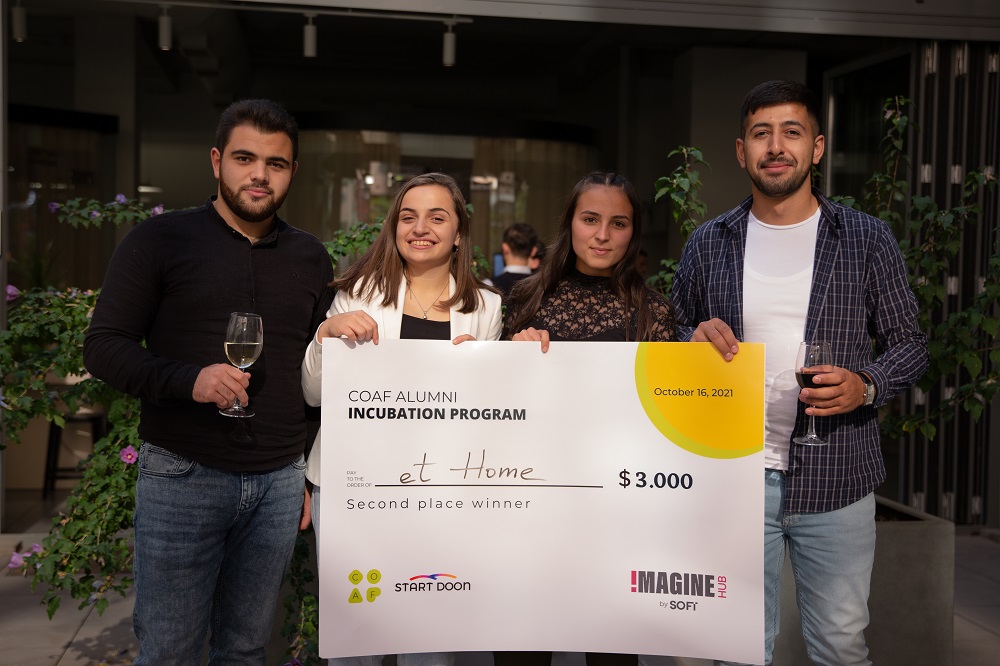 Being close to agriculture, Hayk also has diverse plans for transitioning from traditional to innovative agriculture. Still, he doesn't rush to reveal them, "I prefer to do first and talk later."
Hayk believes it is possible to create a financially profitable business in agriculture besides making a daily living on it. His expertise as a young farmer and his enhanced knowledge in finance blend together under his envisioned goals that he likes to achieve first and then talk about.