The excitement of new beginnings is in the air as kids across the country are getting ready for another school year. Sharing this enthusiasm, we're thrilled to direct that energy toward a meaningful cause: building a brand-new school for the children of Debet village in Armenia's Lori region.
At the core of every initiative we undertake is the goal of ensuring that every child has an equal opportunity to learn, grow, and succeed in both school and life. In Debet, we had the opportunity to witness first-hand the immense potential of its children through our COAF SMART Center and various community development projects. However, one challenge has stood out: the dilapidated and seismically unsafe school building.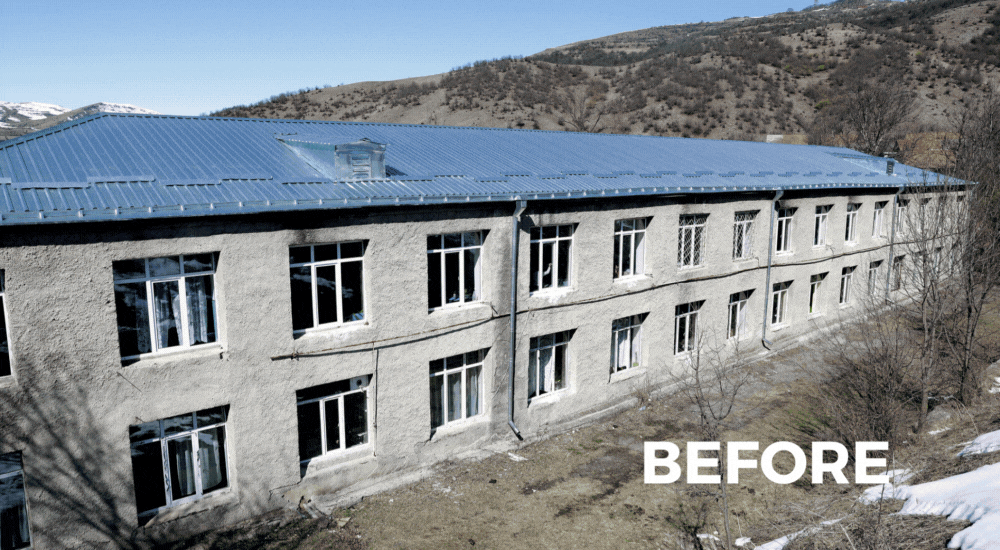 By replacing the old school with a new and inspiring space, we will provide the children in Debet with access to vibrant classrooms, fully-equipped laboratories, and interactive spaces — all designed to not only facilitate the absorption of knowledge but also to encourage active engagement. We will also equip the new school with a cafeteria serving nourishing lunches, as well as an outdoor sports ground where they can enhance their physical abilities in order to promote healthy habits from an early age.
Our approach extends beyond the confines of classroom walls. The Debet school project encompasses comprehensive teacher training, aligning local educators with the latest teaching standards set by the RA Ministry of Education, Science, Culture, and Sports. This ensures that our students receive the highest quality education, enriched by innovative teaching methods that cater to diverse learning needs.
Each and every donation is crucial, as it adds a brick to the new building that will enhance the educational journey for generations of village youth. So join us in supporting the children of Debet and helping them get closer to the learning environment they truly deserve.